, Bose has finally launched its new self-fitting hearing aids—Bose SoundControl™. The new hearing aids look a lot like traditional medical-grade hearing aids, but promise a radically different do-it-yourself experience that allows you to "tune it yourself", "skip the appointments" and "pay (much) less". The new hearing aids come with 90-day risk-free trial, dedicated product support, and will be available to purchase on May 18 in select states for $849.95 for 2 aids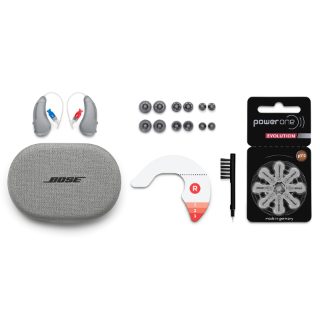 What's in the box
SoundControl™ Hearing Aids
Open eartips in sizes 1, 2, 3 (tip 2 is installed on the product)
Closed eartips in sizes 1, 2, 3
Batteries, size 312 zinc-air (8)
Carrying case
Hearing aid brush
Cable sizing tool
Quick start guide
Instructions for use
Tune it yourself
Unlike traditional hearing aids, Bose's new SoundControl™ hearing aids are designed to be adjusted by the user. Citing a study conducted with researchers at Northwestern University, Bose touts "clinically proven results" using its proprietary CustomTune™ technology. Based on the research, Bose makes three primary claims:
CustomTune™ provides audiologist-quality customization.
Users were happier with sound quality compared to prescription-fit users.
On average, there was no difference in hearing-in-noise performance or hearing benefit between CustomTune™ and prescription-fit.
The Bose Hear App (on Android or iOS) gives the users two primary controls:
World volume – This control is the primary control for amplification. It adjusts the gain, compression, and output limiting across 12 bands to approximate the settings that would be required to professionally-fit 36 common audiograms.
Treble – The treble control adjusts "spectral tilt" by applying "additional adjustment to the gain" across 12 bands.
In the research cited by Bose, most users found themselves in the ballpark of a good hearing aid fitting. This was established by running ear canal measurements to see how close research participants self-selected amplification output was to the output of a perfectly-fit hearing aid.
for more information LINK
https://www.bose.com/en_us/products/headphones/earbuds/soundcontrol-hearing-aids.html#v=soundcontrol_hearing_aids_gray
---