By Sarah Ellsworth
Everyone has their own opinions about remote work, our "new normal" approach to office-based professions during the COVID-19 pandemic.
Some people still struggle with the lack of face-to-face interaction, while others became acclimated to their virtual environments instantly. Unlike many workers who commuted to a physical office each day prior to March 2020, my daily routine has not changed.
I have been working from home since 2014 for a company that provides remote accounting services to nonprofit organizations around the country.
I know that I am lucky to have avoided a career disruption during this time. Still, I recognize that the transition from in-person to online work has been difficult for people like me. I have a hearing loss, and I can appreciate that visual cues are more likely to be missed when we can't collaborate with coworkers in the same room. I don't wear hearing aids, but rely on lipreading for communication. I was born with a genetic hearing loss, so it's been part of my entire life.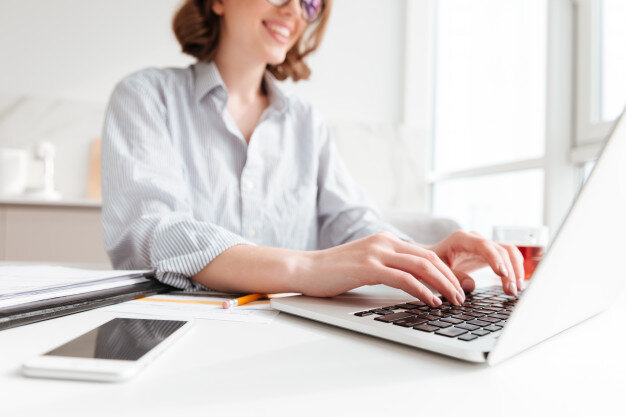 As someone who's only known a life with difficulty hearing, take it from me. I'm here to encourage folks with hearing loss that this new normal — my old normal — is actually something to embrace. I've had many different jobs in my life — outdoor recreation, retail sales, mail carrier, publicist, blogger — but I've always gravitated towards positions where I'm not working against my hearing loss. Joining my current company as a remote employee was a dream come true.
If there was ever a time to live with hearing loss, it's now. Technology has improved exponentially in recent years, and the internet has allowed people with hearing loss to participate in communities and real-time conversations in a way that used to be almost impossible.
One significant recent technological development is the live captioning built into Google Meet video conferencing software. They're surprisingly accurate! Many of the other tools that my colleagues and I use — email, instant messages, virtual project management systems — are also really helpful for people with hearing loss.
Nothing is perfect, of course. While, like most Millennials, I do my best to avoid phone calls, automated phone menus are the bane of my existence. It can be especially tough for people with hearing loss to get through a phone tree or automated greeting when the robot on the other end doesn't understand, "What? Could you repeat that please?"
Despite the challenges that remain, I'm excited to see what the future holds for those of us with hearing loss. From new advancements in technology to more flexible working environments, change can be a wonderful thing.
Sarah Ellsworth is Communications Director at Altruic Advisors, a virtual/remote accounting firm for nonprofit organizations. She lives in Colorado.